November 2002
B

ike

O

f

T

he

M

onth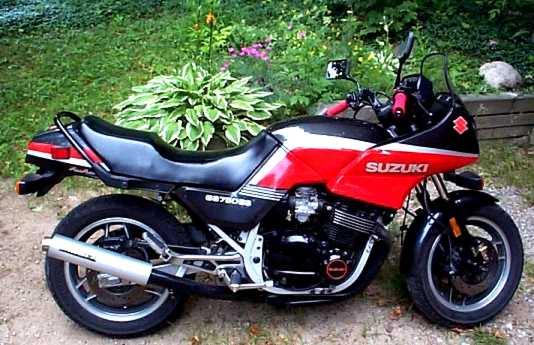 1985 Suzuki GS750ES
Owner: Wolf-Christian Glage
Email address unavailable
ID #155
A Note From The Owner...
According to Wolf-Christian (who had stopped riding for a while) once he moved from Germany to Canada he reports the following:

Early last year I bought an old, beat-up '83 Suzuki GS650G with the intention to fix it up and start to ride again. Unfortunately, I quickly found out, that it is nearly impossible to find any parts for this bike anymore and so my project dragged on. Then last Spring, while searching for more parts, I came across an add from a guy in my home town. I was intrigued and went for a look-see. I instantly fell in love with this bike and bought it on the spot: my "new" bike is a 1985 Suzuki GS750ES. The only modification this bike has seen, was the addition of a Hindle 4 in 1 exhaust system. Despite it's age, the bike had run only 25000km.

I have since added about 5000km to the odometer. What a blast! This bike handles superbly and its red and graphite colour scheme looks sharp. Too bad there is so little information about this bike out there. I had to buy the factory repair manual for lack of other publications... Where I live, I am only minutes away from great roads in the middle of Ontario's Muskoka cottage country, lots of twisty roads with little or no traffic. Unfortunately, our riding season is soon coming to an end and I will have to put the bike away for the winter, but it sure felt good to be back riding again!