October 2003
B

ike

O

f

T

he

M

onth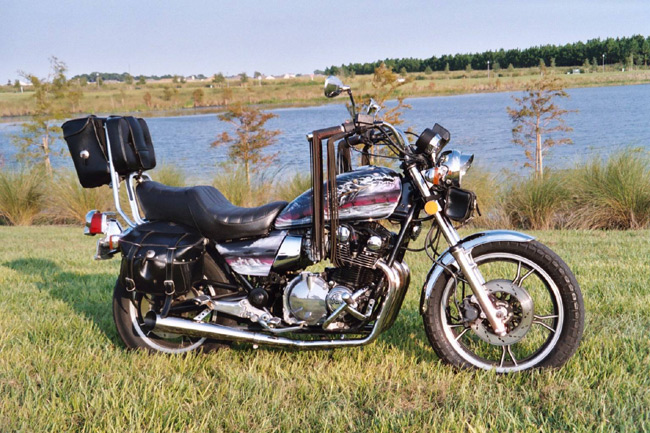 1983 Suzuki GS1100L
Owner: Lee S. Everitt
iceandfire@earthlink.net
ID #142
A Note From The Owner...
Well here it is....finally. My 1983 GS1100GL Custom. (a.k.a. "The
Wraith") This bike has 22,000 TROUBLE FREE miles on it ! I bought the bike in 1994 and a couple of years ago I decided to start a custom project on it. I knew that I wanted to do something a little different and make it stand out in a crowd.

My wish came true when I met an artist named Andy Wright. We both work at Universal Studios and many people there told me to track him down and see what he could do. The man is a GENIUS! I gave him a few ideas for the "subject" of the bike and he ran with the idea. The airbrush creation that he came up with was better than I could have ever expected.

I did a few more modifications. I changed the old pipes out with a new set of MAC pipes and custom slip-on's. I figured I would go all out and had the carburetor re-jetted for straight pipes. I never realized just how nice a set of straights would sound on my GS. I also had the leather replaced and added the saddle bags. A few more accessories and the bike was ready.

This is the year! I can't wait for Daytona Bike Week! Finally I feel I have a ride that I can be proud to drive down main street!

Thanks GSResources!!! You guys are the best!

Lee S. Everitt
Orlando, Florida
U.S.A.