March 2005
B

ike

O

f

T

he

M

onth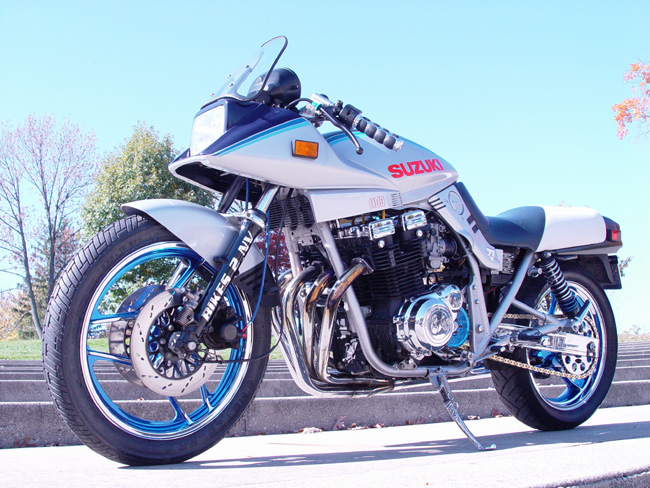 1983 Suzuki GSX1100S
Owner: Al Milford
bikes2nv@wowway.com
ID #112
A Note From The Owner...
This bike sure turned heads when it hit the streets in 1983. The more things change, the more they stay the same. This bike, a 1983 Suzuki GS-1100SD Katana, has been years in the making. There are many modifications to this bike, I'm not sure I can list them all. First, we'll address the engine upgrades.

The stock 1100cc engine has been bored over to 1168cc. The oversize mill features a Star Cycle cylinder head, lock up clutch, bearing support, custom ground Web camshafts, high volume oil pump internals, a manual cam chain tensioner, Dyna coils, and an MSD ignition all assembled by the top notch guys at Power by Sauer. All that work to the engine meant the bike needed more fuel. So I added a set of 38mm flatslide carbs.

The engine exhales through a custom Star Cycle 4 into 1 exhaust system. All of that extra power meant we would need some chassis upgrades. So I installed the 3" over swing arm, wheel and brake system from a 1986 GSXR, a Superbrace fork brace and Kevlar brake lines. All of the modifications added up to the first 9-second street bike in Columbus, Ohio nearly 15 years ago. She went down the track at 9.96 at 140mph. The next step of the project was to make it look as nice as it runs. Chrome, chrome, candy powder coat, and some more chrome mixed in for good measure, and viola. Notice the chrome and color detail on the wheels. There are so many trick parts on this bike you'd think it was a factory effort.

Al Milford
Columbus, Ohio 43232.