May 2005
B

ike

O

f

T

he

M

onth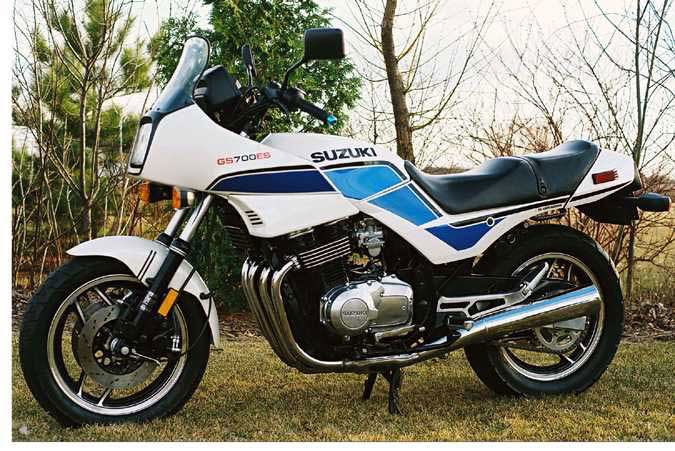 1985 Suzuki GS700ES
Owner: Mark Nemetz
nemetz@netnet.net
ID #114
A Note From The Owner...
I'm really excited to share my photo with you, and to share what I have done with this bike since I purchased it several years ago from a guy in Chicago.

After purchasing the bike, I became interested in motorcycle shows - specifically, a motorcycle show called "Midwest Cyclemania" that was going to be held in Green Bay, Wisconsin the last weekend in April. I decided to enter my GS700ES in the competition - especially after my brother Mike decided to enter his bike, and after he challenged me to see who could put the most effort into preparing our motorcycles for the show.

I basically removed everything from the bike. For the most part, the only thing left that was still bolted to the frame was the engine.

The exhaust system, fork legs, wheels, tank, front fender, fork brace, rear foot peg brackets, tail piece, fairing, lowers, windshield, and a filthy chain guard, were all removed and completely detailed. (WOW, 20 years worth of built-up chain lube inside that chain guard !)

I touched-up the frame - and as you can see in the photo, I also stripped and polished the engine cases. The Dremel polisher my wife Kelly bought me for Christmas a few years back came in handy, that's for sure.

I spent several hours on each side of each wheel with aluminum polish and sealer. I polished the outside of the carburetors, and buffed every nut and bolt that I could reach with the various attachments from my Dremel toolkit. (I think I started developing a taste for the rouge polishing compound I used !)

I completed the project by hand-polishing every piece of fiberglass and plastic on the bike. The windshield was brought back to near-new condition with Novus polishing compound.

It took me a few weeks just to put everything back together.....but I had a blast doing it. How much fun can an old guy from Wisconsin have working in his garage during the winter ?

But the best was yet to come.......at the motorcycle show, I took 1st. place in my class !

I had plenty of competition in the Street / Sport division, and felt that I had little or no chance of winning anything because of all the Ducati and Hayabusa entries - but the judges, and spectators (who also voted) really came-through for me. I was elated, to say the least - especially after hearing comments from the attendees regarding how good my GS700ES looked, considering that it was over 20-years old.

I have personally had a lot of motorcycles "come-and-go" over the last 35 years, but this one I plan to keep forever.

Hope you enjoy the photo.

Mark Nemetz
De Pere, Wisconsin, U.S.A.