June 2006
B

ike

O

f

T

he

M

onth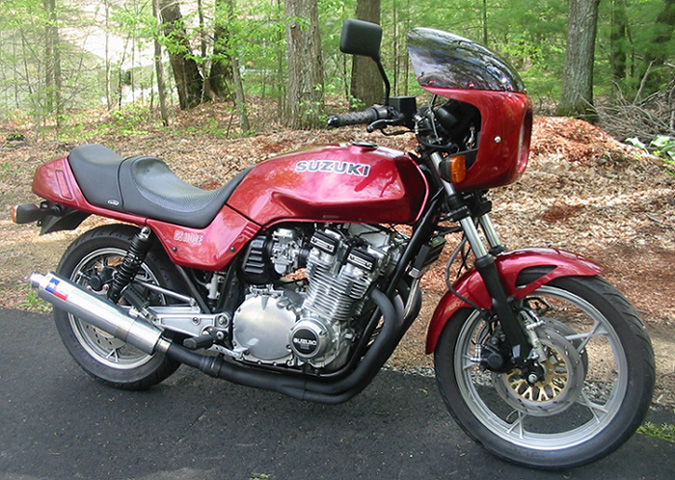 1982 Suzuki GS1100E
Owner: Rich Kay
richkay228@hotmail.com
ID #103
A Note From The Owner...
I have been riding and racing motorcycles since I was 13. I currently work part time as a fun "hobby" at a Suzuki/Kawasaki/Yamaha dealership. I had been looking for an early 1980's "muscle bike" restoration project for quite some time, and along came this 1982 GS1100EZ.

My bike was all original with 17,200 mi. on the odometer, and had been sitting for over 4 years. No evidence of being crashed, with the usual small dents and dings all over. My theme was some "old school" meets "new school" superbike look. The bodywork was completely restored by my good friend Bruce Rines of Paul's auto Body in Salisbury, MA. The paint closely matches 2004 "Red Fire" Ford Cobra paint. In the shade looks to be factory GS burgundy red, but in the sun the Red Fire paint is spectacular as it has a deep, vivid metallic presence to it.

Many chassis components were stripped of their original black paint, polished to clean bare metal, then clear coated. The bike has been rebuilt from front to back. The exhaust is a one off custom fabricated piece compiled from a MAC GS1100 front 4 into 1 header, and a D&D performance muffler and mid pipe from a Kawasaki ZX7R. The deep throaty bark is SWEET! The vintage 1/4 fairing is a Lockhart Phillips unit, and the headlight is a 7" diamond cut HID unit, that REALLY lights up the road! The bike also sports a Corbin Gunfighter leather saddle.

I added Bikemaster Superbike bend bars. I also added a set of V rated Maxxis C6002 tires. Also custom fabricated is a Lockhart oil cooler. This is one of the most comfortable
"std" chassis bikes I have ever thrown a leg over. I have already received tons of compliments, and the great thing is it's a practical commuter bike, that gets approx. 41 mpg as a bonus. Thanks for looking !

Rich Kay,
a.k.a. the "Road Clam"