January 2010
B

ike

O

f

T

he

M

onth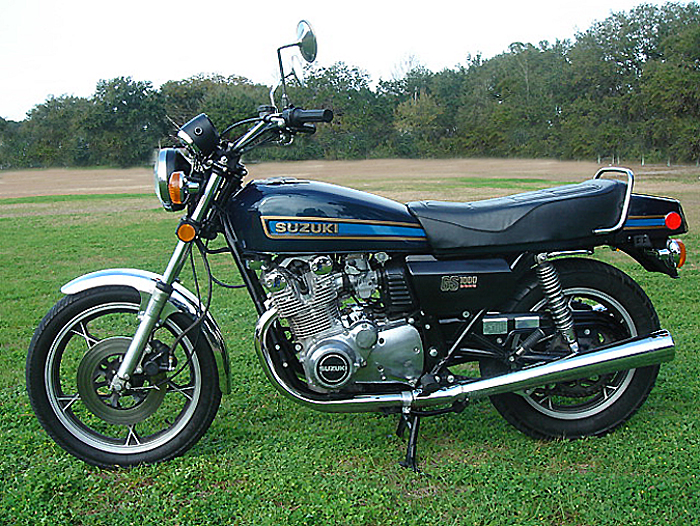 1978 Suzuki GS1000
Owner: Kurt & Aimee
aimeekurt@verizon.net
ID #50
A Note From The Owner...
I thought your readers might enjoy a picture of my new bike. In 1979 I bought new GS1000E that i outfitted with a Yoshimura pipe, rear-sets, and low bars, and i have been longing for another one recently.

I found this pristine 1978 GS1000C on craigslist for $2,500 ( thank you Jeff ) and drove across Florida and back to get it. On the way I lost my taillights in the morning before sunup in severe fog, had a blowout on my trailer (with the bike on it) on the Skyway bridge, and came within inches of running over a loose poodle, car tires locked and howling at 40 mph, just before I got home. ( the dog ran away unscathed, no animals were hurt in this adventure ).

This GS is as close to a museum piece as I have ever seen in a unrestored 31 year old motorcycle. It has 10,000 obviously babied miles on it from the first two owners and is bone stock except for the added E model wheels, ( which I like because they allow the use of safer tubeless tires ). The stock spoke wheels were included with the original tires(!) on them.

Also included was the factory shop manual, a backrest and a box of NOS gaskets, filters and other parts. I plan no modifications to the bike other than a upgrade on tires. (And a pair of superbike bars...... and a 4 into1....... and a set of pod filters.... ok,ok, anything could happen). It runs and rides as good as it looks.

I never realized how beautiful the Midnight Blue color on these can be. Depending on the light and time of day, it can look like metallic green, metallic blue, or a dark purple. This is one magical factory color. Pictures don't do the paint justice.

I'm a pretty happy camper, and I don't even camp!

Thanks, Kurt

P.S. - thank all who make this site possible, a valuable resource, indeed.