April 2021
B

ike

O

f

T

he

M

onth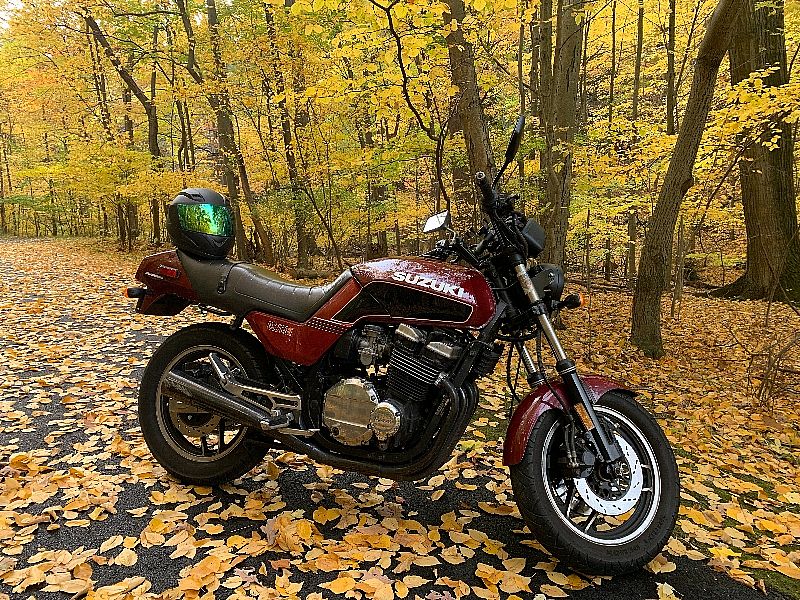 1983 Suzuki GS750E
Owner: John Cole
jwcole1004@outlook.com
ID #358
A Note From The Owner...
Since I was a boy, I've always thought that the 70s - 80s were the most beautiful generations of Japanese motorcycles. My South African father preferred dual-sports, but there was something so compelling to me about vintage cruisers. So in summer 2019 when I was 21, interning in Washington DC, and regularly perusing Craigslist, I couldn't help but jump at the opportunity to sink my savings into Suzi, my beautiful 1983 Suzuki GS750E.

Bought at 15k miles and have put 6k on since then - couldn't ride year-round while still a student in Rochester, NY, but I am now located in the Raleigh, NC area so the weather is more amenable to frequent riding.

How did I get down South from Rochester?

Glad you asked. 5 days of motorcycle camping through Ohio, West Virginia, Tennessee, and Virginia with my duffel bag full of tools and a sleeping bag - until winding down NC 181 through Morganton to finally arrive at my new home in Raleigh.

Suzi has been a dream, but ornery and fickle at times. She's currently parked in a buddy's garage while I await the arrival of new carb o-rings and float bowl gaskets, which, thanks to this website's guidance, will get her up and running once more.

Thanks for consideration!