March 2022
B

ike

O

f

T

he

M

onth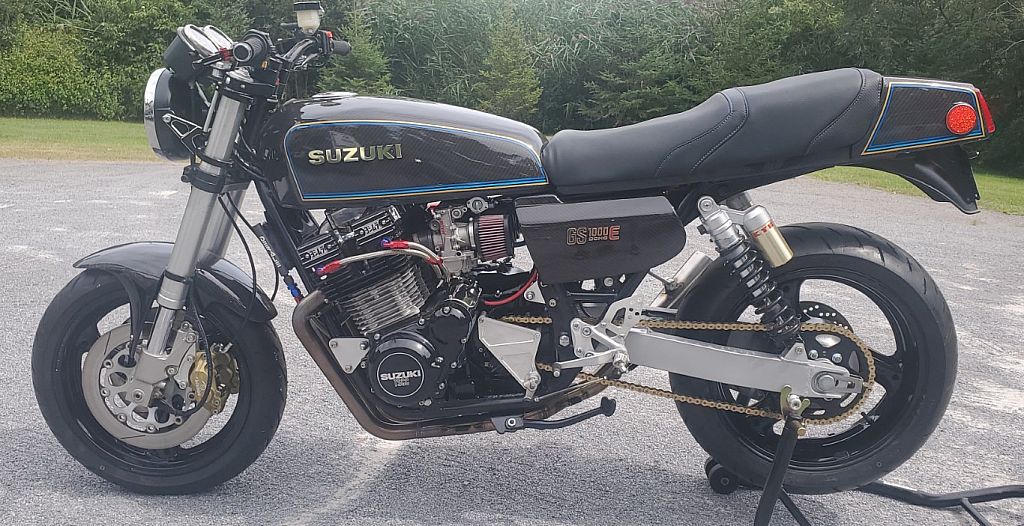 1979 Suzuki Custom
Owner: Gary Scotti
gscotti@sympatico.ca
ID #365
A Note From The Owner...
1979 GS1000E

Wiseco 1170, Cam Motion G3 cams, mild porting, Mikuni RS36's,K&N filters, Hindle Stainless 4\2\1,Welded Crankshaft, Welded Clutch Basket, Manual Cam Chain Tensioner, High volume oil pump gears, Custom Top end oiler, Late clutch pack with the extra plate, Period Derale cooler, billet motor mounts, Dyna Ignition, Coils and Wires.

Custom wiring harness with extra relays for coils, headlight. New OEM stator fed into a Compu-fire reg/rec. Power distribution module from Eastern Beaver and Lithium Battery.

Braced frame with relocated top shock mounts. Custom seat on stock pan. Seat stitched in blue to match striping. Wheels and engine covers powder coated in gloss black.

GSXR1100 front end with Ducati 996 calipers, Apex brake lines, Nissin Radial Master Cylinder and custom top clamp by Topyokes. Instruments are Suzuki GS500.
GSXR1100 rear end with Kawasaki ZRX rear shocks.

Entire bodywork hydro-dipped in carbon fibre before all new emblems and pinstripes applied and buried in clear coat.

I am forgetting so many small custom touches!